Power over Ethernet PD Repeater
The ALLNET PoE PD repeaters offer a first-class solution for particularly long distances. This is very practical in warehouses and larger buildings, for example. A classic PoE connection supports a maximum of 100m. Since you can connect up to 6 repeaters successively, you can reach up to 700m range, as one repeater extends the range by 100m each. Especially when there are no other sockets available, it could be the perfect solution. Through this technology, you can both power a surveillance camera or an information monitor, for example, and connect it to the network with the same cable. There is an indoor, as well as outdoor variant.
Entry Line Outdoor IP68 - max. 500m
Outdoor IP67 - PoE Repeater / Switch - max. 300m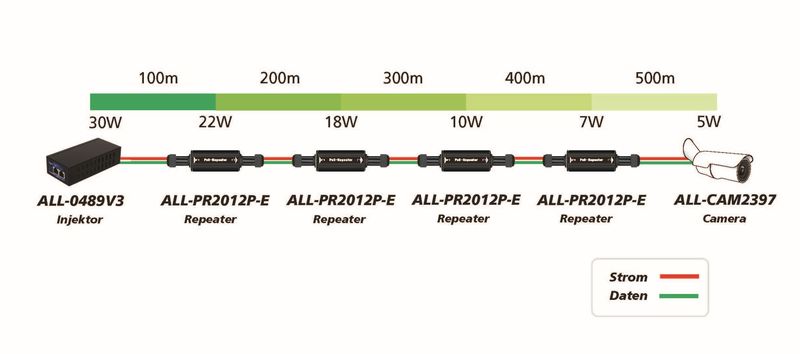 Professional Line - max. 700m
---
Highlights:
2x Gigabit Ethernet ports PoE (data and power).

LT PoE++, IEEE802.3 at+/at/af

up to 6 repeaters cascadable
Power over Ethernet, simply extend by 100m.
The Power Over Ethernet Repeater ALLNET ALL048600 extends the PoE and network range by 100m. Depending on the PoE input power, up to 6 repeaters can be connected in series. We recommend e.g. the ALLNET ALL048900 LT PoE injector for the output power.

Technical data:
Element

Spezifikation

Unterstützte Standards:

LT PoE++


IEEE802.3af Power over Ethernet


IEEE802.3at Power over Ethernet enhancements


IEEE802.3 10BaseT


IEEE802.3u 100BaseTX


IEEE 802.3ab 1000BaseT

Anschlüsse:

1x RJ45 Eingang (Daten und Strom)


1x RJ45 Ausgang (Daten und Strom)

LED Indikatoren:

Power / PoE Act/Status

Spannungseingang:

PoE 36~57V

Spannungsausgang:

LT PoE++, 802.3af/at/at+

Stromverbrauch:

System: 2,1A (Max.120W), StandBy: typ. 1,5W

Gehäuse:

Metallgehäuse, Wandmontage möglich

Maße:

Länge/Breite/Höhe: 200 x 80 x 36 mm

Gewicht:

253g (o. Netzteil und Verpackung)

Umgebung:

Temperatur Betrieb: 0 ~ 50 °C


Luftfeuchtigkeit Betrieb: 10% ~ 90% (nicht kondensierend)


Temperatur Aufbewahrung: -40 ~ 70 °C


Luftfeuchtigkeit Aufbewahrung: 5% ~ 90% (nicht kondensierend)

Kennzeichnung:

CE
Product Video
---
Back