The basis - IP control units
Intelligent building technology contributes to an increase in safety and comfort and at the same time also ensures active savings in energy costs.

Centrally controlled and accessible via the Internet, ALLNET building automation allows intelligent and flexible access to the building technology and, of course, independently of the personal location. In addition to monitoring sensor values, it is also possible to switch actuators and other consumers. The control centers are scalable and can be networked with each other across locations, which allows adaptation to a wide range of scenarios.

ALLNET sensor meters can be used to control and switch lights, blinds, ventilation or any connected devices. In addition, the temperature detection and demand-based heating of individual rooms, control of garden irrigation, alarming in case of gas smell and water intrusion up to the automatic opening and closing of the blinds depending on the daylight and much more - there are no limits to your ideas.
Control Units
---
ALLNET ALL3500 / IP Homeautomation Appliance, 4x Sensor-Ports
The economical entry into the home automation
The ALLNET ALL3500 Home Automation Appliance provides a solid and cost-effective platform for the implementation of control solutions based on measured data.
As the model ALL3418V2/ALL3419 based the ALL3500 on the new ALL5002 CPU board and
a GNU/Linux firmware.
Thus it is open to your own applications and all additional modules ALL3000/4000/5000 series can be operated with the ALL3500 central unit.
The ALL3500 can be conveniently read from anywhere via web interface, con gure and operate. The integrated XML interface allows for easy integration into complex

installations or proprietary software products for controlling and monitoring.
Controlling, measurement, regulation via network, Internet and Smartphone

Application examples:
Temperature monitoring in HACCP or alarm scenarios , as well as depending of alarm detection circuits
Climate control of a room by monitoring temperature and humidity, as well as needs-based control of heating and humidication.
Recognition of a crisis in mission critical areas and turn of alarms if you smell gas, ooding, smoke, etc.
Time-and humidity-controlled garden irrigation
Consumption-based circuit using external sensors such as ALL4950 power meter module
SNMP Modul
Compact, powerful, economical

The right platform for your home automation application

We are suceed in integrating a lot of functionality in a compact and cost-saving design in the ALL3500. This saves space and

cost, yet delivers impressive functionality. Four relays, sensor ports and contact interfaces are available. Thus the ALL3500 is

extremely versatile.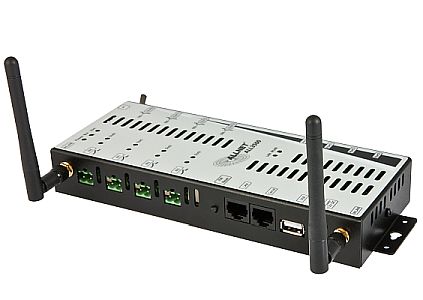 Sensors, actuators and switches
A wide productrange allows complex application

The ALL3500 central unit has four ports for connecting external sensors and actuators, and four relay outputs for switching any loads. In addition, the device has four contact inputs, eg can be used to connect push buttons and switches.

Thus, ambient conditions such as temperature, humidity, air pressure, and much more can capture, share and process, as well as switching processes via actuators or relays. This can be performed manually, time-controlled or depending of the detected values. 
Connectivity
With Ethernet and built-in WLAN easily accessible

The ALL3500 central unit is accessed via an IP address in the TCP / IP network. The values can be accessed via the web browser directly from the device, processed or sent periodically via email. An integrated XML interface is used for data retrieval and control via the Internet, bringing the ALL3500 can be integrated into an overall control solution.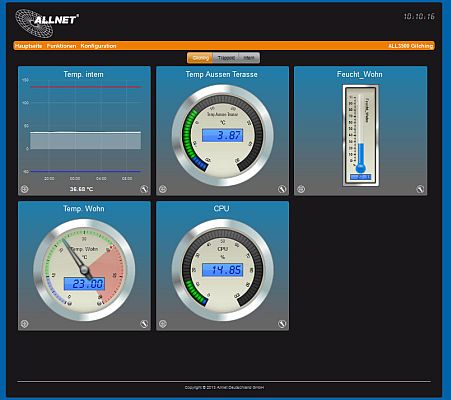 I2C-Bus
Use existing cable networks to connect sensors

To connect the measurement and control modules to the central units all ALLNET home automation products use a simple network cable (RJ45 connector, Cat. 5). For this purpose, an existing wired network such as the own network or phone wiring can be used. The maximum cable length between the central unit and module can be up to 100 meters. Here the modules are supplied with voltage by the CPU. A separate power source for each module is not necessary.
USB Port
Integrate external radio technologies
External sensors/actuators can for example be connected via a separate wireless USB stick with the ALL3500. The ALL3500 can recognize and process these sensors. The following technologies/manufacturers are already integrated in the ALL3500:
Maximum number of sensors per ALL3500: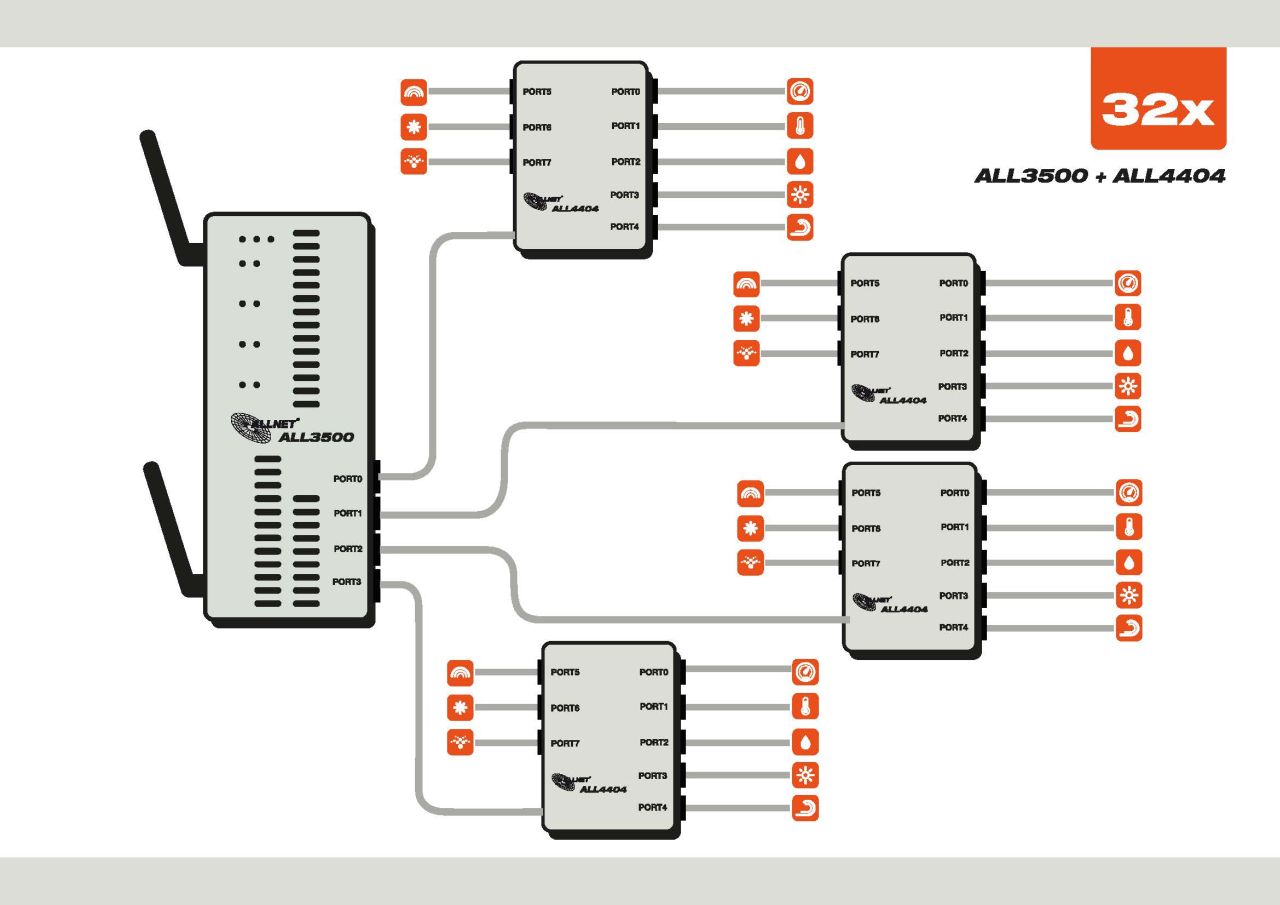 Technical Details:
Element

Specification

Interfaces:

4x RJ45 sensor modules

Network Interfaces:

1x RJ45 10/100Mbps

Switch relay:

4x potential-free (á 8A)

Contact Input:

4x for push buttons, switches, etc.

Wireless LAN:

Ralink RT3352 Chipset


2,4 GHz Wireless N



Safety: WEP 64/128bit, WPA, WPA2

Supported Standards:

IEEE 802.3


IEEE 802.3u


IEEE 802.11b/g/n

Additional Interfaces:

1x USB 2.0


1x Console

Power supply:

100~240 VAC, 50/60 Hz, 12V extern power supply

Power consumption:

<5 watt maximum

Housing:

Metal housing

Environment:

Temperature operating: 0 ~ 40 °C


Humidity operating: 10% ~ 85% (non-condensing)


Temperature storage: -20 ~ 60 °C


Humidity storage: 5% ~ 90% (non-condensing)

Mark:

CE, RoHS

Dimension:

220,4 x 80 x 30 mm (L x W x H) 

Weight:

400 grams (device incl. WLAN antenna and ALL3006 sensor)

Package content:

-ALLNET ALL3500


-ALLNET ALL3006 temperature sensor


-WLAN Antenna


-external power supply


-manual
Downloads
---
Back