PCs para carril DIN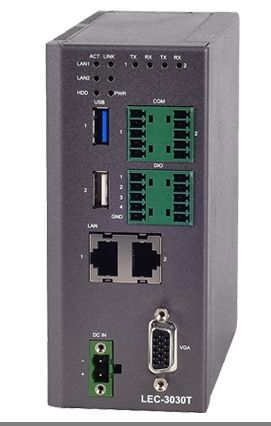 PCs para carril DIN
El PC de carril DIN se encuentra en el armario de control, la caja de distribución o la carcasa de la consola y se engancha al carril DIN. Los PCs de carril DIN son cajas robustas de PC empotradas sin ventilador, ampliadas con la funcionalidad mecánica del montaje en carril DIN. Cumplen con las tareas como puerta de enlace de IoT hasta las tareas de control de automatización del hogar de manera absolutamente fiable. Ofrecemos los PCs de riel DIN como barebone para su propio equipo individual sin memoria y sin sistema operativo.
¿Para su casa o su próximo cliente?
Aquí presentamos algunos ejemplos del uso de los PCs All-in-One y las tablets de pared:
Señalización digital
Videoporteros
Señalización digital de puertas (ocupación de una habitación, por ejemplo, sala de conferencias y reuniones)
Visualización de fotos o imágenes (marco de fotos digital)
Explicación en video e invitación a comprar en el comercio
Carteles electrónicos
Encuestas de satisfacción del cliente instaladas permanentemente en el comercio
Terminal de domótica
Representación y planes de contingencia en las instituciones educativas
Información al paciente en las clínicas (por ejemplo, menús, toma de pastillas, visitas al médico)
Terminales interactivas en museos, zoológicos y otros lugares de ocio
Su próxima idea
PCs para carril DIN
---
Fanless Industrial DIN Rail Security Platform with Intel® Atom? N2600 CPU
---
Key features
Intel Atom-based Industrial Firewall
Onboard Intel® Atom N2600 CPU with NM10 Chipset
Fanless design with corrugated aluminum
Wide temperature range (-40~70°C)
Supports DDR3 Memory, maximum capacity is 2 GB
OS support for both Linux and Windows
3 or 5 Intel GbE LAN ports (using Intel 82574L LAN controller)
1 or 2 pairs of LAN Bypass
ESD and Surge Protection on Serial COM ports for harsh environments
Support DIN-rail mount and wall mount
Overview
LEC-6020 is a Fanless DIN Rail Industrial Security Platform with an Intel® Atom? N2600 CPU. It includes 3 or 5 GbE ports, 1 or 2 pairs of LAN Bypass function, 4 COM ports (LEC-6020A only) and 2 or 4 USB ports. This platform is ideal to provide network security protection for industrial automation or power communication applications.
Specifications
Platform

CPU

Intel® Atom N2600

Chipset

Intel NM10

BIOS

AMI 8 Mbit SPI Flash ROM

Memory Technology

DDR3 1066/1333MHz, unbuffered, Non-ECC

Memory Capacity

2 GB

Memory Socket

1 x 204-pin DDR3 SODIMM socket

Storage

IDE storage

CompactFlash socket Type I/II x 1, SATA x 1

SATA storage

SATA connector for SSD/HDD expansion

I/O

Ethernet controller

LEC-6020A: Intel 82574L x 3

Graphic controller

Intel® GMA 3600

Default LAN

LEC-6020A: 3 x GbE RJ45

Bypass

LEC-6020A: 1 pair; LEC-6020B: 2 pairs

Magnetic Isolation Protection

1.5 KV built-in

Display output

Internal pinheader

RS-232 signals

RTS, Rx, Tx, CTS, GND

RS-422 signals

TxD+, TxD-, RxD-, RxD+, GND

RS-485 signals

Data+, Data-, GND

Baudrate

Supports 50 bps to 115.2 Kbps

Serial ESD protection

15 KV for all signals

USB 2.0

4 (LEC-6020A)

Expansion

Mini-PCIe (LEC-6020A only)

OS and Certifications

Operating System

Linux 2.6, Windows XP Embedded, Window XP, Window 7 Embedded

Certifications

CE Emission, FCC Class A, RoHS

Physical and Environmental

Commerical temperature

-40°C to 70°C

Operating temperature

-40°C to 85°C

Operating humidity

5% to 95% (non-condensing)

Storage humidity

5% to 95% (non-condensing)

Dimensions (W x H x D)

65 mm x 146 mm x 127 mm (2.56" x 5.75" x 5.00")

Weight

1 kg (2.2 lbs)

Watchdog

1~255 level time interval system reset, software programmable

Internal RTC

Yes, with battery lithium backup

Warranty

2 years

Casing material

Aluminum and SECC
Accessory

Article No
Productname
Mean Well Netzteil - 12V 75W Hutschiene
ALLNET Switch unmanaged industrial 4 Port Gigabit 126W / 4x PoE+ / 1x LAN / 1x SFP oder 1x SFP / DIN / Power Booster / "ALL-SWI8142BP"
ALLNET Switch unmanaged industrial 4 Port Gigabit 240W / 4x PoE++ / 2x SFP / DIN / "ALL-SWI8142P-60W"
ALLNET ALL-MCI2011P-60W / Medien Konv. 1G TX PoE AT -> 1G SFP Gigabit DIN
ALLNET Switch Modul ALL4750-INDU SFP(Mini-GBIC), 1000Mbit, SX/LC, Industrial -40/+85 Grad,
ALLNET Switch Modul ALL4751-INDU SFP(Mini-GBIC), 1000Mbit, LX/LC, 10Km, Industrial, -40/+85 Grad,
ALLNET Switch Modul ALL4757-INDU SFP+(Mini-GBIC), 10Gbit Multimode, SR/LC, Industrial -40/+85 Grad,
ALLNET Switch Modul ALL4758-INDU SFP+(Mini-GBIC), 10Gbit Singlemode, LR/LC, Industrial -40 -+85Grad, DDM, bis 20Km
ALLNET PoE Injektor Industrial Gigabit / PoE & PoE+ & PoE 60W Microsemi (15,4W/30W/60W) / DIN / Power-Booster / Metallgehäuse / "ALL-PI2011BP-60W"
ALLNET PoE Injektor Industrial Gigabit / PoE & PoE+ & LT PoE (15,4W/30W/90W) / DIN / Metallgehäuse / "ALL-PI2012P-90W"
ALLNET 19"zbh. Gerätehalter für Hutschiene/DIN-Rail Geräte, T150mm/3HE, Lichtgrau, Frontmontage,
---
Back